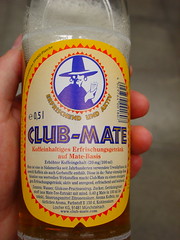 I'm at The Last HOPE in NYC this weekend, checking out lots of cool talks about hacking both hardware and software.  I took a few pictures today and put them up on flickr.
Club-Mate is a very popular beverage this year, a shipment arrived from Germany yesterday and bottles are on sale at the 2600 store on the Mezzanine.  Based on my experience, I have to agree with their motto, which is "You get used to it!"  The flavor is something like prune juice (!) crossed with tea and honey.  But honestly, are people drinking it for the flavor?
I'll be at the con all weekend and should have an update soon.