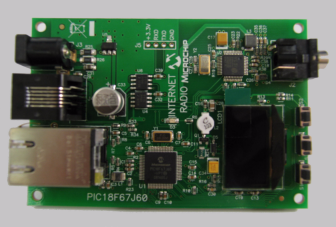 Microchip Technology, makers of the PIC microcontroller, have released a demo board for the 8-bit PIC18F67J60 that is pre-programmed to function as an internet radio receiver.
Anyone familiar with the blog knows that I have a special love for internet streaming radio, so it shouldn't be a surprise that this demo board immediate caught my eye.
The demo board's features include ethernet, a dedicated MP3 decoder IC, pushbutton user interface, and a cool OLED matrix display.  The PIC18F67J60 includes an ethernet PHY on-chip,  which makes for a very simple way to add network connectivity to the microcontroller.  Sadly, unlike my usual hacking platform, there isn't any wireless on-board, but given the extremely small size and downloadable source code, I am really tempted to get one of these to play with.
Here's a short video about the board by MicrochipTechnology on YouTube: