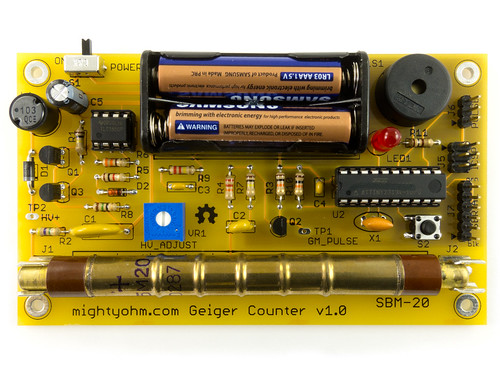 Look!  A new kit!
I admit that I've been working on this one for a while.  Sorry for the lack of updates, but I have been far too busy doing everything last minute and fixing bugs to post here!
I designed this Geiger Counter kit specifically so I could give a workshop at Chaos Communication Camp 2011.  I just couldn't fly halfway around the world only to show up at a hacker conference empty-handed!
My workshops are tentatively scheduled for Thursday and Saturday.  I'm not bringing very many kits, so if you're coming to Camp, sign up early!
More information about the kit is here.  I'll be adding more documentation over the next couple weeks.
Hopefully I'll also be showing off this kit next month at the OSHW Summit and the NY Maker Faire.