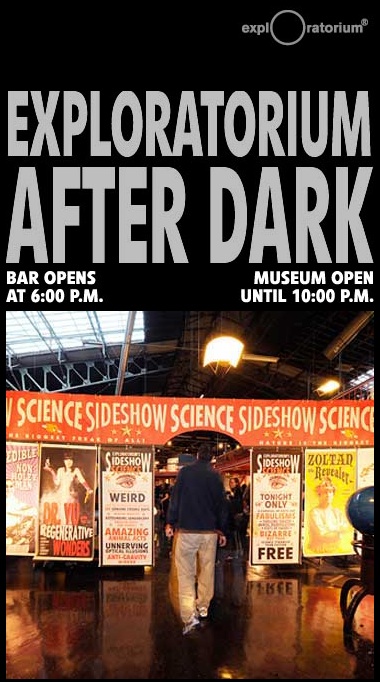 Tonight from 6-10PM, The Exploratorium keeps their doors open late for Exploratorium After Dark, an adult-oriented evening at my favorite science museum. EAD takes place on the first Thursday of every month.
I went last month and enjoyed being able to spend time at my favorite exhibits without being pushed aside by hoards of small children on their school field trips.
More information about tonight's event is below. Every month has special guests, and in addition to the special features you are free to hang out at the cash bar or roam the museum.
Admission is $14.  Members get in free!
Fire and Ice

Thursday, December 3, 2009
6:00-10:00 p.m.
Bar opens at 6:00 p.m.

When the temperature outside starts dropping, the Exploratorium will be heating up and chilling out with "Fire and Ice," its December After Dark event, featuring fire sculptures, ice sculptures, and more!

Enjoy cocktails on ice, sizzling tunes, and stunning displays and explorations of fire, ice, heat, and cold. The evening will feature works of fire art, including the Pyrograph, by Earl Stirling. Like a fiery version of the Exploratorium's classic Drawing Board exhibit, Pyrograph lets you swing a pendulum across a sandy, flaming cauldron and trace out oscillating patterns in fire. Burning sculptures, flaming experiments, and other sizzling delights will round out the high-temperature portion of the evening.

At the opposite end of the thermometer, award-winning ice sculptor David Fong will rev up his chainsaw and carve a 300-pound block of ice into a frosty work of art before your eyes. Stop by our insulation demonstration to learn how to ward off the chill of winter. And we'll find out once and for all which materials makes the best barriers against the cold: Blubber? Down? Or perhaps a less likely candidate-steel wool.

Hovering between these extremes will be Fog Pool, an artwork by Charles Sowers, with swirling, turbulent clouds that you can touch. Fire and Ice will also offer special exhibit demonstrations and floorwalks that delve into temperature extremes: Feel how bringing different temperatures together can confuse your fingers at Hot and Cold Coils, and learn how your hands adapt to temperature at Hot and Cold Chimneys. Plus, see ice in action at Watch Water Freeze.