Want to check if your freshly-assembled MightyOhm Geiger Counter kit is working? You'll need something radioactive! But why pay over $100 for a professional test source when there are plenty of cheap and readily available radioactive items available at your local antique store or online?
The disadvantage of using these sources is that you won't be able to calibrate your geiger counter, but for simple go/no-go testing (which is what most people need) these are perfect!
Here are a few of my favorites:
Readily Available Radioactive Test Sources
Granite tables and countertops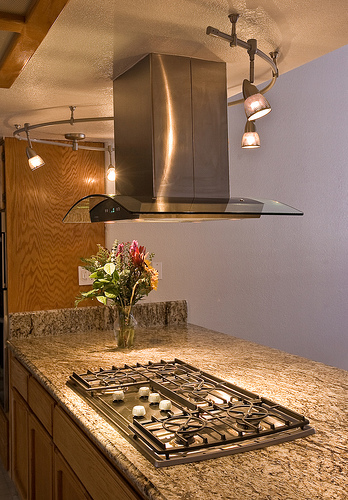 (photo credit: Hidesert)
Granite often contains traces of Uranium, which makes it slightly radioactive. Because granite is commonly used in structural and ornamental building materials, it is easy to find and may already be present in your home (check your kitchen countertops!)
CPM: varies
Sources: Your newly-remodeled kitchen, Home Depot, public spaces, stores that sell building materials, in the ground
Cost: $0
Uranium glass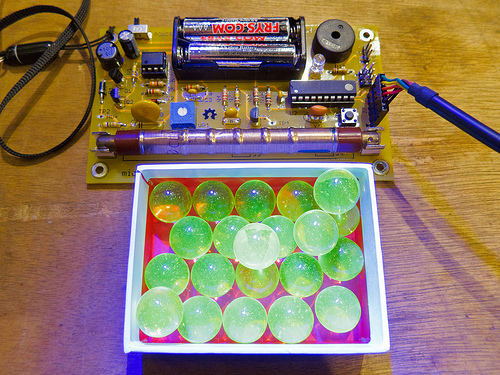 Often called vaseline glass or depression glass, uranium glass contains a small amount of uranium, which makes it slightly radioactive. It also fluoresces brilliantly under UV light! Uranium glass is commonly found in depression-era glassware, the glass-to-metal seals in some old vacuum tubes, and most commonly in the form of green glass marbles on eBay.
CPM: 200 for ten 1/2″ marbles placed on top of kit
Sources: eBay, your great-grandmother's china cabinet
Cost: $5 – $10
Fiesta-ware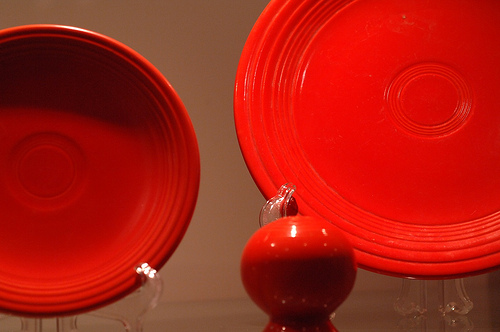 (photo credit: Mr. Physics)
Fiesta-ware produced before 1969(?) is often radioactive, thanks to a glaze that contains uranium oxide. Bright orange/red (often called Radioactive Red) pieces are surprisingly potent, but other colors may be radioactive as well. Fiesta-ware is readily available on eBay, but radioactive dinnerware can be found in many homes. (A friend of mine was shocked to discover that half of the place-settings used for Thanksgiving dinner at his grandmother's house were quite radioactive.)
According to this study by the Oak Ridge Associated Universities, accidental uranium ingestion resulting from using all Fiesta-ware dinnerware every day was "the highest dose calculated in any of the exposure pathways considered…" The glaze used on these plates also contains lead, so I highly recommend using Fiesta-ware to show off your gieger counter, not at the dinner table!
Orange or red Fiesta-ware that is sold today is not radioactive. It is my understanding that uranium oxide hasn't been used in dinnerware much since the 1970s. Note that the use of uranium oxide was not restricted to Fiesta-ware, it was also widely used in the manufacturing of ornamental ceramics such as bathroom tiles.
Fun fact: Red Fiesta-ware was discontinued during WWII after the US government seized the company's stocks of uranium.
CPM: over 6000 for a 6″ dessert plate
Sources: eBay, antique shops, your grandmother's house
Cost: $15 – $30 (and up)
Luminous watches and instrument dials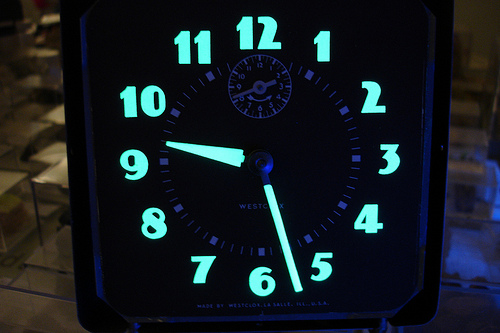 (photo credit: Radioactive Rosca)
Vintage watches and aircraft dials may contain radium, which was used to make them glow in the dark. Radium is over one million times more radioactive than Uranium, emits all kinds of radiation (alpha, beta, and gamma), and should be handled with care. Nonetheless, radium dial watches are fairly common in antique shops and I have seen radium dials on aircraft gauges in surplus stores. Note that the paint will stop glowing long before the dial stops being radioactive (radium has a half life of 1600 years), so bring a geiger counter.
Note: To my knowledge, radium is (thankfully) no longer used to make glow in the dark watches. It has been replaced by Tritium gas (which is an alpha-emitter but the alpha radiation is blocked by the walls of the vial containing it a beta source) or more commonly zinc sulfide.
CPM: over 10,000 for a small aircraft gauge
Sources: eBay, antique stores, military and electronics surplus stores
Cost: $5 – $10 for surplus gauges, watches are $20 and up
Uraninite and other radioactive ore samples

(photo credit: Radioactive Rosca)
Uranium ore (uraninite or pitchblende) is commonly available on eBay and from United Nuclear.
CPM: sometimes specified with the sample
Sources: eBay, United Nuclear, strewn across New Mexico
Cost: $10 – $20
Lantern mantles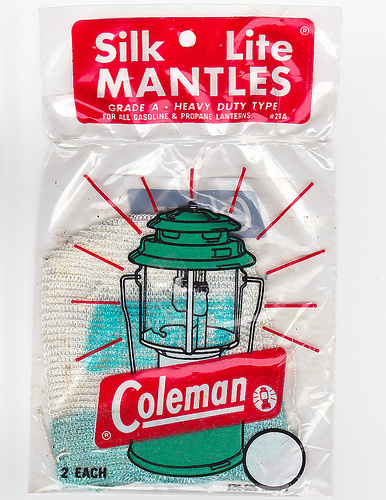 Camping lantern mantles manufactured before the 1990s are likely to contain thorium, which makes them burn more brightly.
Note: Most lantern mantles sold at camping goods stores today contain Yttrium instead of thorium. They are (sadly) not radioactive.
CPM: 3500 for a package of 2 mantles (as shown)
Sources: eBay, antique stores, camping supply stores with dusty shelves
Cost: $2 – $10
Thoriated optics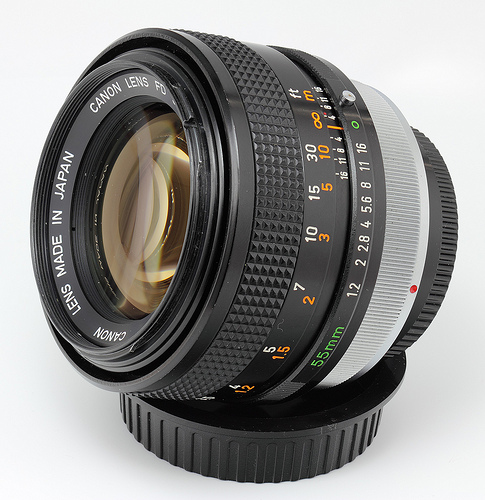 Some 1970s-vintage camera lenses contain thorium, which is used to increase the index of refraction in glass. These are probably rare, but you just might stumble upon a Thoriated lens in an antique shop or surplus store, so I thought I would mention them here.
CPM: unknown
Source: Antique stores, camera shops, hipsters' camera bags, your basement
Cost:???
TIG welding rods
Some TIG welding rods are radioactive because they contain thorium.
CPM: unknown
Sources: Welding supply shops, eBay
Cost: $5 – $10
Things that are not good test sources:
Here are a few examples of items that are not good test sources, at least not for the MightyOhm Geiger Counter kit:
Household smoke detectors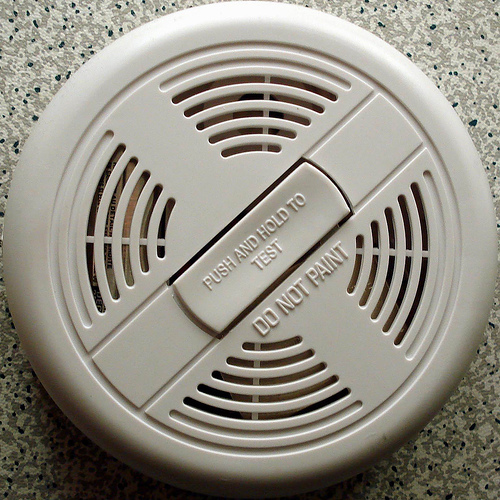 (photo credit: mag3737)
Not all household smoke detectors are radioactive, but even the ones that are radioactive are not good test sources for my geiger counter kit.
Why? Because smoke detectors use Americium, a powerful alpha emitter.
Not only is Americium dangerous to handle (ingestion of alpha-emitters can be very harmful), but the SBM-20 tube used in my geiger counter kit isn't sensitive to alpha radiation, so you'll only get a faint and very disappointing reading from the beta/gamma radiation emitted by Americium's decay products.
Bananas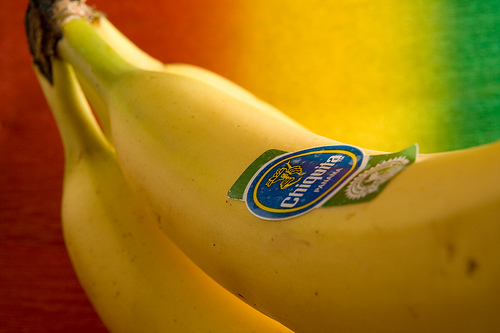 (photo credit: pykmi)
Bananas, which are indeed slightly radioactive because they contain trace amounts of Potassium-40, are not a strong enough beta source to use with my geiger counter kit. (This is good news for people who eat bananas.)
Fun fact: People are radioactive too!
Have fun!
That's all for now! The Oak Ridge Associated Universities website includes an interesting page that lists several other radioactive consumer products.
Have fun feeding your MightyOhm Geiger Counter kit, and most importantly, be safe!
Do you have any more suggestions for readily-available radioactive test sources? Leave a comment below!