It took a while longer than I expected, but Geiger Counter and HV Rescue Shield kits are back in stock and shipping now.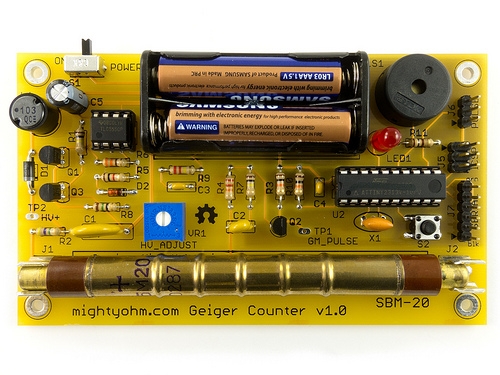 This week only, $99.95 gets you a Geiger Counter kit with sensitive SBM-20 Geiger tube and a clear acrylic case.
Thanks to everyone who has been taking advantage of the reduced pricing on Geiger Counter kits this week, there are just a handful left in stock.
If you've been holding out on placing an order, now might be a good time. There's a fair chance that I'll run out of kits before I close the online store at midnight tomorrow (CDT).
PS: There are still some HV Rescue Shields in stock as well.
Update: I have been asked if I am closing up shop permanently – hopefully not!  I plan to reopen the online store after I move to Seattle, but my new day job might slow down the process a bit. I'll post updates as I get settled.
Will ship between 8/25-8/27, due to my travel plans for August.
That is all.