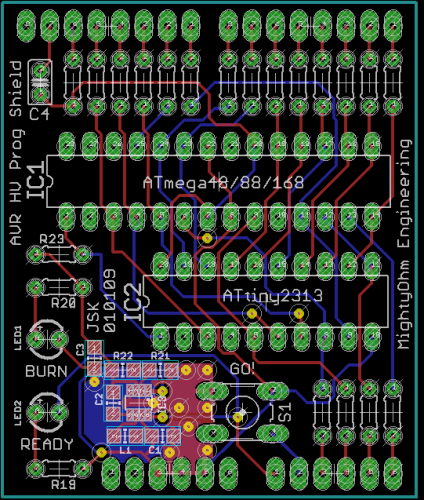 What's this???
In response to the continued demand for a PCB version of my Arduino-based AVR High Voltage Programmer, I just released a first cut to BatchPCB and should have a prototype within 3-4 weeks.
This design is an improvement upon the original HV programmer shield in the following areas:
Onboard 12V boost converter eliminates the need for an external 12V power supply
Support for two of the most common families of AVR microcontrollers, the ATmega48/88/168 and ATtiny2313
Separate Ready and Burn indicators
Protection resistors on every single data, control, and supply line to the target AVR, meaning that your Arduino and AVR should survive any mishaps during programming, including inserting the AVR backwards or off by 1 pin.
I hope to have kits for sale in early February.  Sorry for the delay in getting these made, but I wanted to make the best possible shield I could!