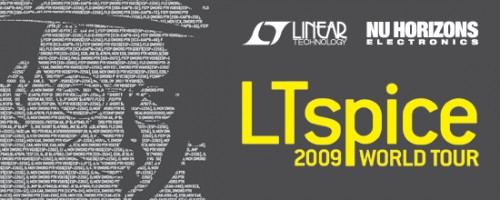 Yesterday I drove down to Linear Technology in Milpitas for a free LTspice IV Seminar, hosted by electronics distributor Nu Horizons.
The seminar was led by LTspice author and advocate Mike Engelhardt.  For someone like me who has never used LTspice before but wanted to see what all the fuss was about, the seminar was an extremely informative introduction to what appears to be a very powerful and well-supported design tool based on Berkeley SPICE.  Mike claims that in most cases, LTspice is the fastest SPICE simulator around, making it the industry leader both in price (it's free) and performance.
The best part?
After the seminar, Michael Payne of Nu Horizons sent out a link to the class slides and example files as well as a list of useful LTSpice Keyboard Shortcuts.  So even if you missed the class (or the tour didn't include your part of the world), you can still learn about the circuit simulation tool that has been making waves in the open source hardware community.