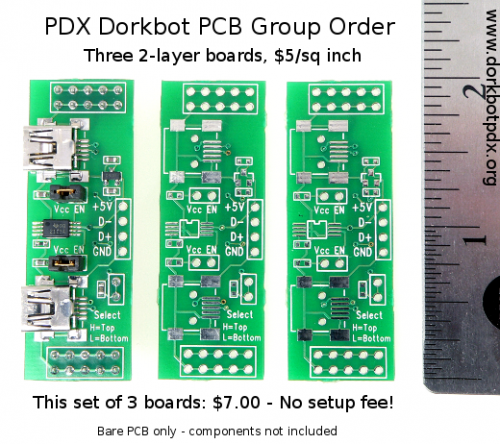 Laen of DorkbotPDX has been running a PCB proto service for some time now, and I finally got a chance to try it out this month.
The pricing is simple.  For 2-layer boards, it's $5 per square inch for three (3) PCBs, with no setup charge, and shipping is free.
The tunaround time is typically 9 days + first class mail shipping, which ends up being just under two weeks total fom PCB release to delivery in Austin.  This is pretty good for a group order, and signficantly faster than BatchPCB (based on my experience).
The only downsides that I am aware of are:
PCB orders only go out once a month, unless there is enough demand to justify a 2nd run.
If you wait too long, the panels can fill up.  Again, if there is enough demand, sometimes a 2nd panel can be added, but don't count on it.
The soldermask and silkscreen can be any color (and you don't get to choose!)  BatchPCB at least guarantees the standard white/green.
4-layer boards are available as well, but at a higher cost ($10/square inch) and less frequent intervals.
Entries for the next PCB order are due on October 25th.  The more orders Laen gets, the more likely he is to continue the service, so if you have some designs you've been thinking about but have been put off by expensive PCB costs, finish them up and get some boards made!