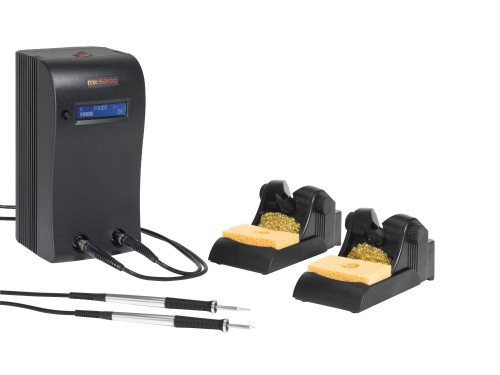 This is it! This Metcal soldering station will make you put away your Weller or Hakko and never look back! The dual simultaneous iron feature means you no longer need to buy two Metcal base units in order to solder SMT components with both hands! At over $800, these cost more than most hobbyists can afford. But for electronics professionals, this is probably the best soldering iron money can buy today. Just think, a year ago I had to buy two stations like this to fully equip a single lab bench for two-handed soldering!
Amazon.com seems to have the best price on these (free shipping for prime members!): Metcal MX-5211 Soldering and Rework System with 2 Hand-Pieces
Note: Tips are not included, but this iron uses the commonly available STTC tips that work with the older MX-500 series base units. Tips are not cheap, typically costing $15-$30 ea, but they will last for years of daily use if properly cared for.
I recommend the 700 series tips (STTC-1xx) for general leaded and lead-free soldering, although the tip life on the 600 series tips (STTC-0xx) is better and the lower temperature is fine for leaded solder and light duty use.
Here are some of my favorite STTC series tips:
STTC-125 – General purpose 1/32″ chisel, get this tip first!
STTC-117 – Beefy 5mm chisel tip. Like most of the fat chisels and conical tips, this will heat up heavy gauge wire scarily fast. Good for soldering heavy PSU or motor controller wires and ground planes. STTC-125P is also good for smaller stuff like SMD PSU caps and multi-pin connector grounds.
STTC-140 – Long reach angled fine point tip, great for general SMT work 0603 and below. I equipped my station with one of these and an STTC-125 and I rarely need to change tips.
Here's a helpful selection guide that also shows just how many different tip styles are available.
If you just need one iron, the Metcal MX-5210
is cheaper and can be upgraded later.