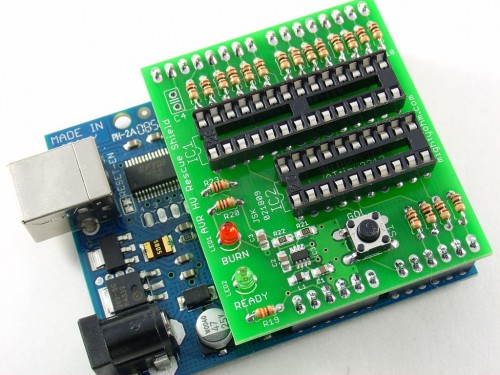 Back in March, I released the AVR HV Rescue Shield, my first open source hardware kit.  The AVR HV Rescue Shield is a high voltage parallel mode fuse programmer for Atmel AVR microcontrollers.
Since then, I've sold dozens of kits around the world.
If you bought a kit, I want to hear from you!  Specifically, I'd like feedback on the following items:
Was the kit easy to assemble?  Are the assembly instructions clear and easy to follow?
Is the Arduino sketch easy to use?  Are the usage instructions helpful?
Are you satisfied with the kit?  Does it work as advertised?
Have you modified the kit or Arduino sketch in any way, such as adding support for more AVRs or programming modes?
Have you taken advantage of the Open Source Hardware model or CC-licensing to re-use this design in a new and interesting way that you'd like to share?
You can leave feedback in the comments below, or if you want to respond privately, use the contact form to contact me directly.
Thanks!