Back in February, I first posted about the DTV conversion project that was beginning to make waves¹ at San Francisco's iconic Sutro Tower wireless broadcast facility.
Since then, there have been some big changes at the tower: the end of analog television broadcasts in June, the complete removal and replacement of one (two?) of the tower's huge antenna masts, and the addition of several new bright red digital TV antennas near the top of the tower.  On a clear day (which is not often this time of year), workers can often be seen climbing around the tower, like tiny ants on a large, red and white striped giant.
For anyone who is interested in getting a closer look at the heavy construction on the tower, San Francisco resident Larry Kenny recently posted a link to his Sutro Tower webpages, which feature a detailed photo journal of the DTV conversion thus far.  There are lots of great shots of the tower itself as well as the mangled remains of the original analog TV antennas, which, when seen on the ground, help give some idea of the scale of things atop the tower.  When assembled, these things must be the size of tractor trailers!
I also recently revisited sutrotower.org, the website of David July, a Florida resident who has been fascinated by the tower since his first visit to San Francisco in 1989.  (Sutro is also one of the things I remember most about visiting SF as a child.)  David's site is the most comprehensive source of information about the tower I have ever seen. Included are many fascinating photos of the tower spanning it's 37-year lifetime, such as these photos of the tower's construction in 1971-72: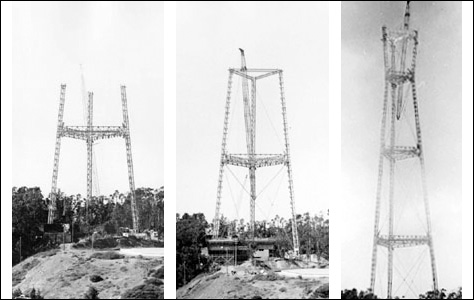 Sutrotower.org also includes photos of the original Sutro Mansion and the first broadcast tower to be installed, a far cry from the tower that sits atop Mount Sutro today!  If that's not enough for the real "tower junkies" out there, there are also links to several tours of the tower, with lots of photos.  (Sutro Tower Staff: Where do I sign up?)
That's all I have for today, but I'll keep my eyes on the progress at the tower.  San Francisco landmark, controversial neighbor, and engineering marvel, Sutro Tower never ceases to amaze me.
(And to those who don't live in San Francisco and have no idea what I'm talking about: Well, now you have one more reason to visit.  :-))
¹ Pun intended.