As part of the nationwide DTV transition, on Friday, June 12th, Sutro Tower ceased all analog television transmissions by powering down the three main analog TV antennas atop San Francisco's iconic three-legged broadcast radio tower.
This change is reflected by their status page, which now shows the top of the antenna mostly dark with the exception of a few FM radio stations, as shown below.  The DTV mast in the center of the tower is providing temporary digital television service during the tower's massive DTV conversion project.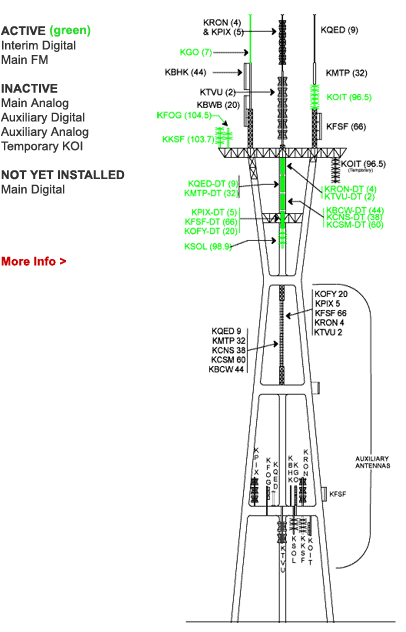 According to Gene Zastrow, Sutro's general manager, the existing analog television antennas will be replaced with new primary DTV antennas over the next several weeks.  This could make for some great photo opportunities if the weather is decent, as I expect that given the size of the antennas there will be some serious equipment being used on and around the tower.