I just got an e-mail from HSC Electronic Supply announcing their 45th Anniversary Sale (aka Sidewalk Sale), which takes place this Saturday, Sept. 26th.  If you are in Silicon Valley this weekend, this is definitely worth checking out.  If you want to get an idea of what this event is like, check out my photos from last year's "Warehouse Clearance Sale."  (It seems like they change the name of this event every year now!)
45th Anniversary Celebration
Local Customer? Come on in and celebrate with us and save
10%-60% on everything in our stores. One day only!
Out of the Area? For our online customers, from September
23rd to 27th, HSC will offer *FREE shipping plus an additional 10%
off any order over $50.00. Just mention "Anniversary Special" in
the shopping cart order notes and we'll take care of your discount.
The 6,000 items listed online are just a sample of our extensive store inventory.
Don't see what you need? Please don't hesitate to call us at 1-800-442-5833.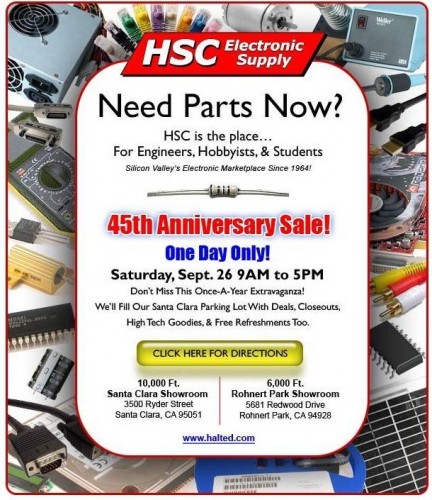 HSC is having some online specials too, although if you shop online you are missing out on 90% of the fun, such as sifting through crates of miscellaneous electronics parts!
Every project I work on usually involves at least one trip down to the South Bay to visit HSC, and I usually find at least a few interesting odds and ends at their annual clearance sales.  And while you're in the area, I highly recommend a side trip to Weird Stuff Warehouse in Sunnyvale as well.