The HV Rescue Shield 2.0 is a high voltage parallel mode fuse programmer for Atmel AVR microcontrollers.
It currently supports a wide variety of AVR chips, including the 28-pin ATmega48/88/168/328 series, the 20-pin ATtiny2313, and many 8-pin ATtiny devices (such as the ATtiny25/45/85 and ATtiny13A).  A list of supported devices is in progress, but the Rescue Shield supports many more devices than those listed on the wiki.
The HV Rescue Shield 2.0 is in stock and ready to ship today!  Scroll down to place an order.
New in release 2.0:
Support for 8-pin ATtiny devices that use High Voltage Serial Programming (HVSP) mode!
Mode selection at startup so you don't have to recompile the Arduino sketch to change parts.
More reliable HFUSE burning on all HVPP targets.
Numerous minor bug fixes and speed improvements to the code.
Reduced price, kit is now only $19.95 (was $24.95).   This means the kit is lower cost, but with more supported parts!
Requirements:
A working Arduino (tested with Arduino Uno, Duemilanove and Arduino NG)
A computer with USB and the Arduino IDE installed (tested with Arduino 0021)
A soldering iron and basic electronics assembly skills
What you get:
A high quality printed circuit board with the DC-DC converter preassembled, as shown below.
All other components needed to build the kit
An Arduino sketch, assembly instructions, Eagle schematics and layout files.
Here is a snapshot of the components included with the kit.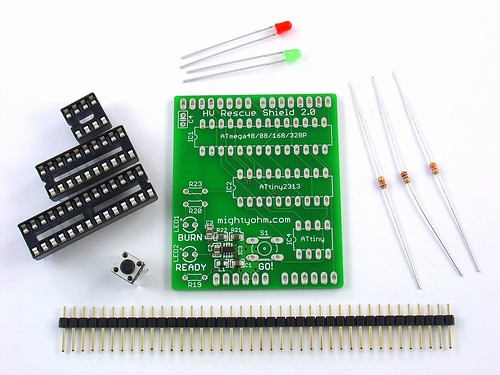 How to Order:
Visit the HV Rescue Shield 2.x product page to place an order.