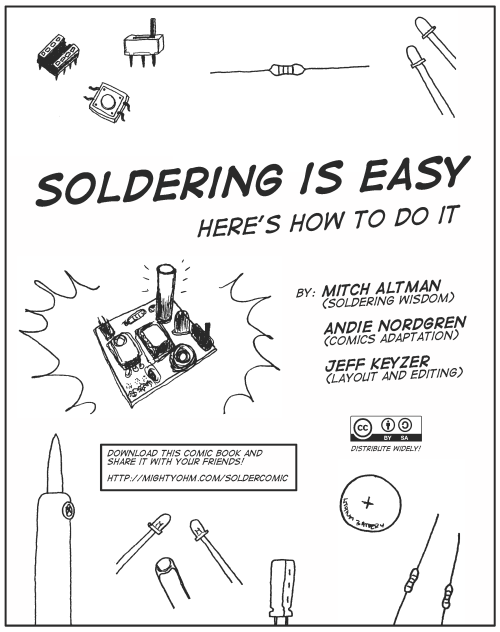 Do you want to learn how to solder?  Do you want to make really cool things?  Do you want to teach other people how to solder (and make cool things too)?
I'm happy to announce the release of Soldering is Easy, a comic book that will teach anyone the basics of soldering.

This seven page comic book explains in detail and with pictures how to make a good solder connection.  It also teaches you all the other bits and pieces of knowledge  that you need to successfully solder together an electronic kit, even if you've never soldered before!
I worked with Mitch Altman (@maltman23) and Andie Nordgren to create this revised and extended version of the wildly popular one page handout that Mitch and Andie created in 2010.
The comic (and lots more cool stuff!) will be included in a book that Mitch and I are writing about How to Make Cool Things with Microcontrollers (For People Who Know Nothing). It will be published by No Starch Press.
Here's a sample page (click for a bigger version):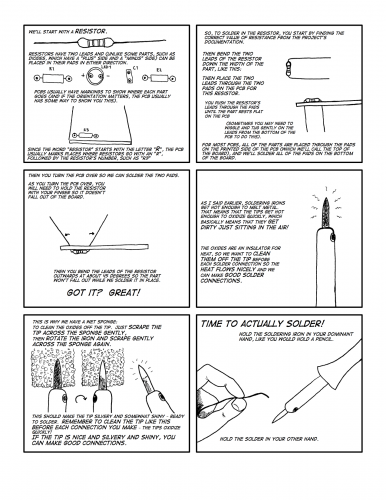 As of 2015 the comic book has been translated into 21 other languages! A huge thanks to everyone who sent in translations and is helping us spread our message around the world! We would love for people to translate the comic book into more languages! If you create a translation, please post a comment here and I'll link to it! If you're looking for help with a translation, you can try posting in the forums.
The comic is released under a Creative Commons license (Attribution-ShareAlike), so you are free to teach with it, color it, modify it, share it with your friends, translate it, and basically do whatever you like with it!
English:
The complete comic book is available for download here:
"Soldering is Easy" Comic Book (PDF)
We also have some other versions of the comic available:
Translations:
And really, soldering is easy (and fun!).  Learn how to solder and teach your friends!